Trying to understand the terms of the reward.
There are many uncommon aspects that separate the Natalee Holloway mystery from other cases in recent times. In this chapter I will attempt to explore the terms of the Reward for Natalee Holloway. This truly is one of the most unusual rewards for a missing person. No one seems to be able to accurately explain the terms of this reward. When Natalee's parents are asked, even recently they seem almost tongue tied with their response.
Clearly if there is a reward, the specific details by now should be known after over two years. Legally there are terms that are specific to rewards. People should be able to ask these questions and expect answers. The reward site that was recently established is truly trying to help by getting to the heart of these terms. In hopes of bringing some clarity to the reward I will discuss its history and how it still seems shrouded in a mystery.
Click on the image to see enlarged view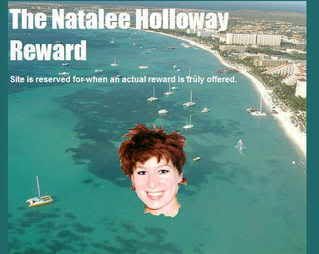 In hopes of bringing some clarity to the terms of the reward, this reward site was established by
Jan Brennan & Sam Redman.
Missing Alabama Teen, Reward posted ...
In the case of the missing Alabama teen Joran van der Sloot, four years later continues to be the prime suspect, often focused on in the news by Jossy Mansur, on programs such as Nancy Grace and Greta van Susteren.
The subject of the Natalee Holloway reward continues to be debated. The reward funds have been increased many times from the original offered on the kidnapped posters. Dave Holloway once said on a cable news show that the details of the reward "were all over the net ..." Actually, few if any details are known. At one point the million dollar reward money was to have been posted by now convicted felon, Joe Mammana. Another reward source mentioned was Jar Twitty's AM South Bank, Jug Twitty's brother. Recently in Jossy Mansur's paper, El Diario, a possible reward was posted. None of the details have been verified.