Holloway Case Almost 5 years later
Lifetime Television Premiers the Movie, based on Beth's book, Loving Natalee. Read all about it, continuous updates here:
See the movie right here
More Breaking News in Peter de Vries Chapter
Joran van der Sloot Back in the News
What is still going on in the investigation of the Holloway case? Today in the Amigoe is an article by Renee Gielen, who is still questioning the significance of the arrival time of Beth Holloway on the island of Aruba. When Beth arrived is really not as significant as why she continues to misrepresent her arrival time, if that is indeed what she has been doing.

'Nieuw' bewijs versterkt leugen moeder Natalee Holloway

24 Mei, 2008, 17:52 (GMT -04:00)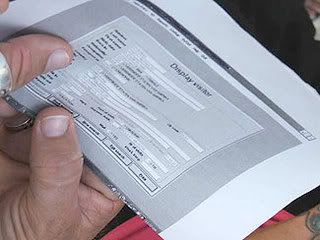 De computeruitdraai waaruit blijkt dat Beth gelogen heeft over haar aankomsttijd op Aruba.

WILLEMSTAD/ORANJESTAD — Uit een uitdraai van de telefoon van Natalee Holloway blijkt dat moeder Beth al om kwart over vijf – bijna zes uur zoals ze tot nu toe verklaarde – met haar privé-jet op 30 mei landde op Aruba. Dit zegt althans de Curaçaose tv-producent Renée Gielen, die in bezit is van de telefoonuitdraai van de mobiele telefoon van Natalee.

Dit is opvallend, zegt Gielen, omdat het volgens haar betekent dat Beth Holloway al naar Aruba wilde komen voordat Natalee vermist werd. "Op de lijst is te zien dat Beth om kwart over vijf heeft gebeld naar de cell van Natalee. Dat heeft ze gedaan met haar eigen cell en dat had niet gekund als ze nog in de lucht zat." Het telefoontje is dus niet gepleegd met een satelliettelefoon, benadrukt ze. Ook is het volgens Gielen 'niet waarschijnlijk' dat Beth een tussenlanding maakte vanuit de VS. "Dat is niet gebruikelijk op deze korte vluchten. Bovendien had ze dan nog eerder moeten vertrekken."

Uit de uitdraai blijkt bovendien dat het geen miss call was, maar Beth ook daadwerkelijk iemand aan de lijn had. Gielen gaat ervan uit dat Paul Lilly, een van de chaperonnes van Natalee tijdens haar vakantie op Aruba, het telefoontje van Beth beantwoordde. Bij aankomst op Aruba had Beth bovendien een stapel posters bij zich waarin zij Natalee vroeg haar te bellen. "Dit suggereert dat Beth, voordat Natalee vermist werd, al moet hebben geweten dat er problemen waren", aldus de tv-producent die vanaf het begin van de vermissingzaak, nu bijna drie jaar geleden, de zaak onderzoekt. Gielen en haar team zijn nu bezig met de afronding van de documentaire 'Natalee, The Unrevealed Time Lines', die naar verwachting op 2 juni wordt gepresenteerd.

VERGIST

De telefoonuitdraai beschouwt Gielen als nieuw bewijs dat Beth heeft gelogen over het juiste tijdstip van aankomst op Aruba. Tot nu toe verklaarde de moeder van Natalee – ook in haar boek 'Loving Natalee' dat eind vorig jaar verscheen – dat ze 'rond elf uur 's avonds' aankwam. In januari zei een ex-l Alberto G., een ex-medewerker van de luchthaven, al voor de camera's van Gielen dat het privé-vliegtuig van Beth om kwart voor acht landde. Hij trok zijn eerdere verklaring in, naar eigen zeggen omdat hij zich had vergist. Dit nadat de Amerikanen Dan Young en Kelly Castillo, die zich voor detectives uitgeven, tijdens een bezoek aan Aruba, een computeruitdraai lieten zien waaruit blijkt dat Beth eerder arriveerde. G. bevestigde de authenticiteit van deze uitdraai.

Het motief van Natalee's moeder om te liegen over haar aankomsttijd blijft nog steeds onduidelijk. Ondanks vele telefoontjes en e-mails is het Gielen niet gelukt om Beth te bereiken. Bij de politie is ook niets bekend. Gielen: "Heel toevallig zijn er volgens de politie die dag geen telefoongegevens beschikbaar van de zendmastapparatuur." Oud-commissaris Gerald Dompig verklaarde eerder tegenover deze krant dat de politie indertijd de tijdlijn heeft onderzocht, en ook vluchtgegevens plus luchtbewegingen.