Fish Trap

This image has circulated on line as what this trap might look like. But still there is no record of one being stolen.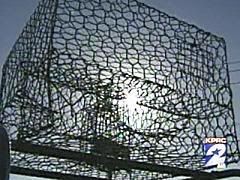 Hodges continues with his fantasy journal

December 20th
The next day, Louis and I left the boat while Tim Miller went back out. It was clear the first part of the search was going to take longer (before the ROV team was called upon) and we both had business in the U.S. I took him to the airport the next afternoon and he planned on returning after Christmas as did I. That afternoon (December 20th) I met with Diario publisher Jossy Mansur in his office for an hour or more to discuss the case in person. Jossy told me several things in person he had not been able to reveal over the phone—and gave me a good feel for the politics of the investigation and future investigation should Natalee's body be discovered. We discussed my profile in more depth.
Later that afternoon, I drove out to the Lighthouse and then walked down the beach from the Holiday Inn to Fisherman's Huts. Indeed it's not a long walk going right past the nearby marina between the Holiday Inn and Marriott where the Gottenbos boat was moored.
Meeting with Jossy
Another troubling aspect to Hodges analysis is this references to discussions with Jossy Mansur. He says they had had been in contact by phone. And now Jossy is telling him details of the investigation in person. Details of what? Just how has Jossy been able to have real details of this investigation? Jossy is not part of law enforcement and yet Jossy has been embroiled into this case like no other and always since day one casting the blame square on Joran van der Sloot and to a lessor degree the Kalpoes. Jossy would only be able to offer up speculation and more theories based either on rumors or some of the false leads which often came from Jossy or Jossy helpers. It is very disconcerting to see how Hodges is linked with Jossy Mansur.